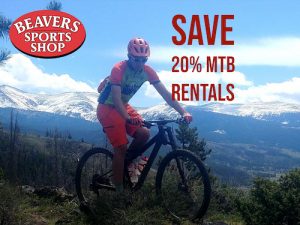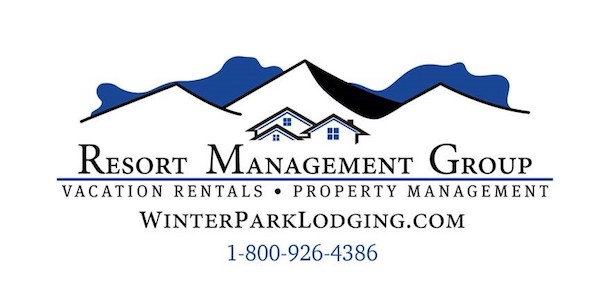 Welcome Resort Management Group Guests
We are proud to have been selected by Resort Management Group as your preferred mountain bike, ski/snowboard rental shop!
Looking for ski rentals?  Scroll down for our great benefits and more information!
About Us
Locally owned and operated, founded in 1995 because we have a passion for mountain biking.
We are the leader in local trail advocacy. Keith Sanders (owner) founded the Grand Mountain Bike Alliance and works to improve the quality of mountain biking in the Winter Park area. Keith also has many years of mountain bike racing experience including 3 USA National titles in mountain biking.
Beavers Sports Shop offers quality rentals that emphasize the best bike for your experience. We have rentals for the vast cross country trail system in Winter Park Colorado as well as bikes for Trestle and Granby Ranch bike parks. You can ride to the trails directly from our shop so there is no need to transport your bike. We have trail maps and suggested routes for you to ride as well.
At Beavers Sports Shop our goal is to treat guests the way we want to be treated, which means going above and beyond the ordinary.  Our staff provides 1 one 1 service ensuring  that you have a great experience on our trails in Winter Park Colorado and the surrounding area.
Bike Shop
Beavers Sports Shop is a full service bike shop located in downtown Winter Park Colorado, specializing in quality mountain bike rentals and retail mountain bikes featuring:
• Trek
• Cannondale
• Scott
Save 20% on your mountain bike rental!  Call or email us directly so that we can get your reservation all set up: 970-887-2554 or rental@winterparkskirental.com
We also offer special bike order options so make sure to ask our staff if you have a particular bike in mind.
Need bike clothing or accessories?  Choose from our large variety of bike clothing, helmets, shoes and full line of accessories.  We have a full service bike repair shop on site, so if you need a small or major repair, we have you covered.
Staff
Our team is comprised of avid, experienced cyclists, active in our bike community and will offer you trail suggestions from a 'real local's perspective'.
Ski and Snowboard Rental Information
We offer a wide variety of Ski and Snowboard Rental Packages and unique policies to not only save you money but allow you to have the best possible experience in Winter Park, Mary Jane or Granby Ranch. We have ski and snowboard rental equipment as well as clothing rental for the first time user to the most experienced expert.  You may upgrade your ski or snowboard rentals at the time of picking up the equipment or anytime during your stay.  Our goal is to help make your ski and snowboard experience the best it can possibly be while you are enjoying yourself in Winter Park or Granby Ranch!
Thanks for using (Beavers Sports Shop/Ski4Less/Snow Mountain Sports) and Winter Park Ski Rental for your ski/snowboard/clothing rental needs!
Pay for the days you use the gear. No other shop does this. To qualify you must rent 2 or more days  (special offer for Resort Management Guests- others must be 3+ days of use) Days used must be equal to or greater than days not used. Be sure to use the code RMG at check out to get your best deal!
Our rates are 40-60% lower than the rates at Winter Park Resort or Granby Ranch.
Kids Free with parent rental (2 or more days of use- special for Resort Management Guests others must be 3+ days of use)! See details below for qualifications and restrictions.
Unique personalized service you won't find at other shops. We even measure your feet and put the boots on you!
Looking for everyday rates (what everyone else will pay)? Click this link!
We require a deposit equal to one day of use. (other shops charge the full amount with limited refund options)
Final payment is not due until you return the equipment.
You will receive an email confirmation after we process your reservation. This is usually within 48 hours.
Your final payment will be due at the end of your stay. All discounts will be applied at the final payment. Discounts can not be combined.
Reserve your ski or snowboard rental equipment in advance and get the best deal anywhere! (reservation discount may not be combined with any other offer or promotion).
Total days charged will equal total days used, with a two day minimum, days used must be equal to or greater than days not used. (other shops charge for all the days you have the gear)
You will not be charged for picking up equipment the day prior to the first day of use. (other shops make you wait until late afternoon or they charge you for that day)
Your RMG discount will be applied at the time of the final payment, which is when the equipment is returned.
Kids 12 and under receive the kids shape ski package at no cost when parents rent 2 or more days,  one kid per parent. Parent rental must be equal to or more days than the free kids.
Reservation required for special.
Learn more about our team at Winter Park Ski Rental (Beavers Sports Shop/Ski4Less/Snow Mountain Ranch) | More Information